(De Pere, WI) Your Parsons-Eagle Sales Executive, Joe Vannieuwenhoven, has taken on a new role as a Parsons-Eagle Industry Manager and will be responsible for packaging solutions for the pet food industry.
As of January 30, 2023, Justin Fredricks will be your Parsons-Eagle Packaging Systems contact for non-pet food packaging solutions. Justin has a Bachelor of Science degree in Technology Management from Herzing University and has over 25 years of engineering and application sales experience. He will be working from our De Pere, WI facility.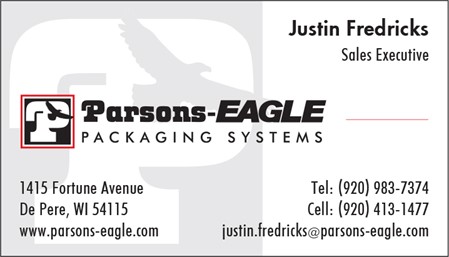 All of us at Parsons-Eagle look forward to continuing to serve your company by providing professional and reliable net weigh scale, vertical-form-fill-seal and pre-made bag or pouch filling solutions.
Sincerely,
Peter J. Hatchell
President - Parsons-Eagle Packaging Systems